Hello, everyone! Today I'm sharing an embellished card - I haven't made one in a while! This card is for someone special and will be hand-delivered. I had a lot of fun playing with my new stamps from
Repeat Impressions
and my new dies from
STAMPlorations
! I coloured the gorgeous stamped image with markers and added lots of flowers and embellishments to make this card interesting and fun!
Rubber stamp
:
Repeat Impressions 8201-P Home Without Cats
(There is a sentiment frame on this stamp that says "A home without cats is like a garden without flowers," but I cut if off for this card because the recipient does not own a cat at this time.)
Dies
:
STAMPlorations Flutter Zen 2 Layering Dies
,
STAMPlorations Bloomdala Bliss Festive CUTplorations
, Cheery Lynn Flourish Leaf Strip, lacy border, stitched scalloped square
Patterned paper
: EnoGreeting Lots of Flowers 6x6 paper pack
Recycled item
: Tea Bag Tag (see image below)
Other
: Yellow Stickles applied to edges of butterfly, Dew Drops (blue and yellow), metal heart charm that says "Made with Love," ribbon bow, various flowers from my stash
I recycled the tag from my tea bag, with its wonderful sentiment:
I also finished the inside of the card. First I did a simple watercolour wash with Distress Oxides (although the colour faded back and it is barely noticeable in the photo). Then I stamped the sentiment and stencilled the flowers, also with Distress Oxides. Finally I added some punched butterflies.
Rubber stamp
:
Repeat Impressions 9206-H Beautiful Days
Stencil
:
STAMPlorations Happy Flowers - ARTplorations Stencil
Distress Oxides
: Watercolour wash (Milled Lavender, Scattered Straw, Worn Lipstick), stencilling (Worn Lipstick, Scattered Straw, Cracked Pistachio)
Die
: Large double-stitched square
Other
: Recollections butterfly punch, flower sequins
My card was inspired by a number of challenges. First,
The House That Stamps Built
has three challenges that provided inspiration:
Repeat Impressions Inspiration Palette Challenge ~ A1719
(I was inspired by the flowers)
Second,
STAMPlorations
has five challenges this month that inspired me:
I also found inspiration at Mrs. A's
Butterfly Challenge #121,
where the theme is
Spin The Butterfly Wheel with E for Easel
. I went with
E for Edge
as I applied Yellow Stickles around the edge of the die-cut butterfly's wings. And since I used so many snippets and scraps for my die-cuts, patterned paper, and recycled tea bag tag, I am also linking to
Pixie's Snippet Playground #350
One last look at my card:
I was also inspired by the following challenges:
2 Crafty Critter Crazies
Critters - Furry, Feathered, Fantasy, Fairytale, Scaly, or Insect 5/5;
A Gem of a Challenge
AG 1/2;
Allsorts
Blossoms, Butterflies, Bugs 1/3;
Ally's Angels
AG 2/3;
Cardz TV
AG 1/3;
Craft Stamper
Take it Make It April AG Stamping 2/3;
Crafting by Designs
Color Challenge (I used pink, yellow, light blue, green, coral) 1/3;
Crafty Calendar
1 Ribbon 2 or More Designer Papers 1/3;
Crafty Catz
AG w Optional Twist All Creatures Great and Small 1/3;
Crafty Hazelnut's Patterned Paper
April UE;
Creative Fingers
AG 3/3;
Creative Moments
AG Optional Twist Spring or Easter 1/3;
Die Cuttin' Diva's
Animal Cruely Awareness 1/3;
DL.ART
April Linky AG UE 1/d;
DL.ART Thankful Thursday
Anthing Spring Wk2 1/2;
Fabrika Fantasy
Flowers 1/3;
Get Creative
AG No Twist UE;
ITD Creative Playground
AG 2/3;
Jo's Scrap Shack
AAG 1/3;
Kat Scrappiness
Pastels UE;
Let's Craft and Create
AG Optional Beautiful Butterfles 1/3;
Lil Patch
of Crafty Friends
AG 2/3;
Mod Squad
Use a Stencil (MSC) 1/3;
Papercraft Business
AG Optional Easter 1/3;
Penny Black and More
Spring 1/3;
Pile it On
Lots of Layers UE;
Polkadoodles
AG 1/2;
Scribbles Designs
Pastels 1/3;
Simon Says Stamp Monday
Beautiful Blooms 1/5;
Simon Says Stamp Wednesday
Spring Mood Board (I was inspired by the tulips, flowers, and spring theme) 1/5;
SUYP Cats Only
Furry-thing Goes UE;
Tales from the Craft Room
Spring or Easter 1E;
The Artistic Stamper
New Growth (tulips, butterfly) 1/3;
The Cat's Pajamas
Spring UE;
Three Amigos Blog Hop
Springtime UE;
Wednesday's Creative Inspirations
Easter Wishes and/or Animals UE;
Word Art Wednesday 382-383
AG w Uplifting Sentiment 1/5 wk2;
Yes...Virginia
Show and Share with Virginia April 1/4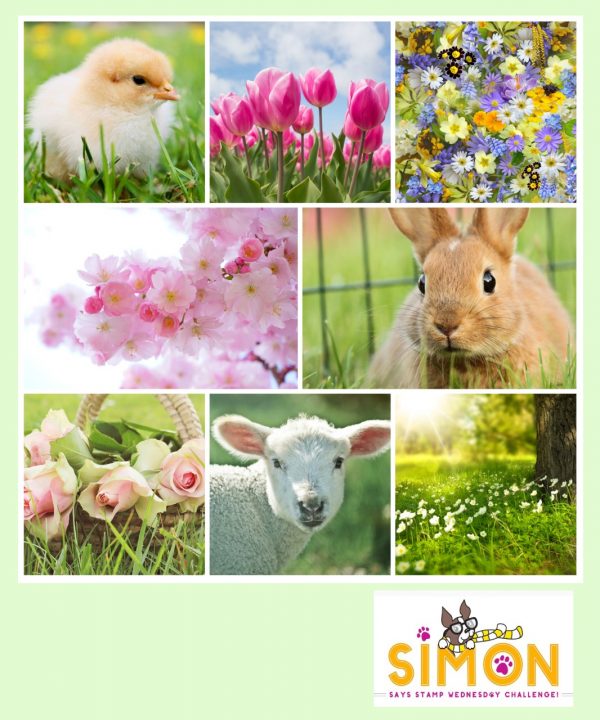 Thank you for looking at my card! Wishing you a joyful day!